Set passwords
You have received an automatically-generated ETH user name and initial password. You must set your passwords at www.password.ethz.ch Self Service → Change Password. You have to choose different passwords for network (VPN, WLAN), email and web applications. You have to select the password in the column "select" that you want to change: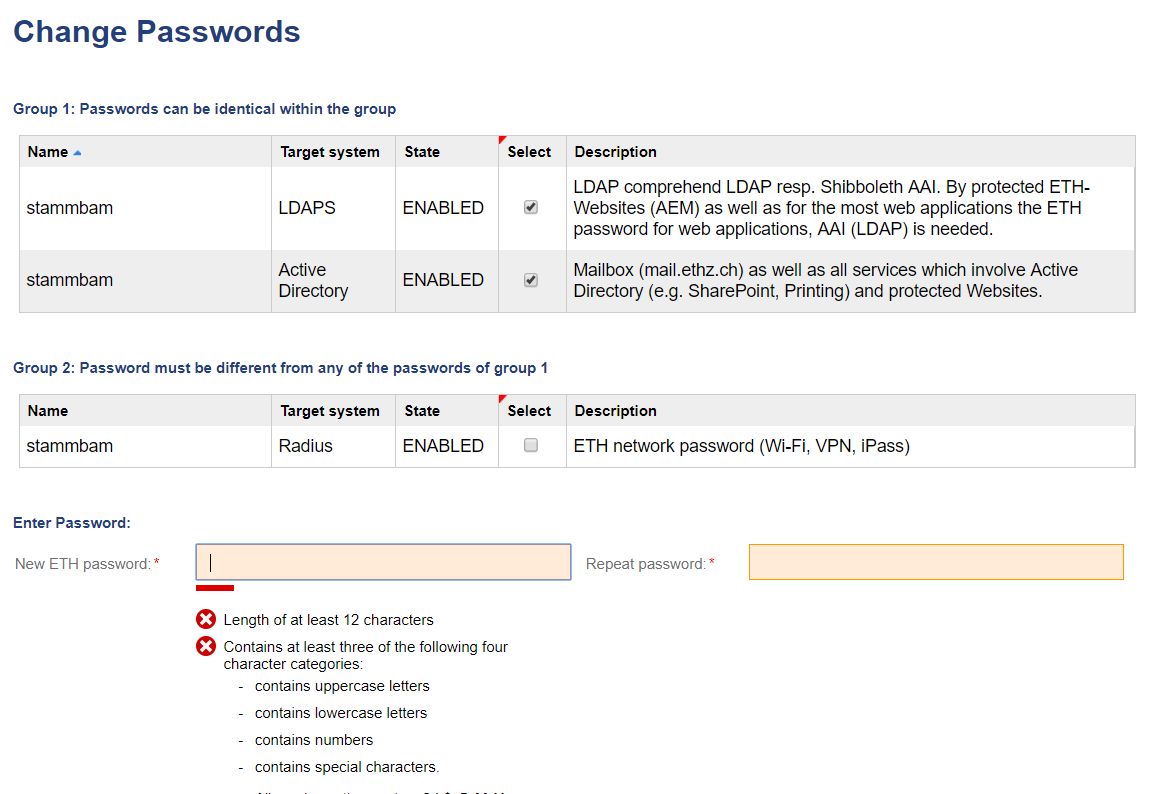 Connect WLAN
You can connect to SSID eduroam/eduroamt5.
If you are a guest for some days, you can login to the SSID public and register and authenticate at the landing page that shows up automatically.
Realm
Network name
Login name
Network access
for students
eduroam / eduroam5
username@student-net.ethz.ch
Internet access
for employees and longterm guests
eduroam / eduroam5
username@staff-net.ethz.ch
Internet access
for guests
public
without authentication
http and https protocols
available at ETH
without authentication
Internet access via VPN
or landing page,
both requiring
authentication via
Landing page
If you are not sure to which realm you belong, you can check it here https://realms.ethz.ch/
Connect to a printer and load balance
You have to connect to the print server \\pia01.d.ethz.ch with "d\<ETH username>" and the ETH password for email. You can find detailed instructions for Windows and MacOs
As the print services are available only for a fee, students and guests are not allowed to print unless an employee transfers balance with the print tool at http://www.print.ethz.ch
Mailbox
If you have received a mailbox with your guest account you can access your emails at https://mail.ethz.ch with your <ETH username> and your ETH password for email. You can find further instructions for other mail clients here: https://www.it.mavt.ethz.ch/mailbox/